| | |
| --- | --- |
| Ratings | Score |
| Installation | |
| Documentation | |
| Features | |
| Usability | |
| Performance | |
| Overall | |
iPod FM transmitters are a quick and easy way to iPod-enable your wheels and relatively inexpensive at ~$14-$35. So the question becomes not whether you should buy an iPod FM transmitter, but WHICH one you should buy. (Hardcore audiophiles will scoff and claim you have to hardwire your iPod to your car stereo, but for 99% of people an iPod FM transmitter's quality is good enough.)
Some factors to consider include: FM transmitter range, sound quality, user-selectable FM frequency, clean & elegant design with minimal wiring, and finally the ability to simultaneously charge your iPod while your using it.
Newer Technology's RoadTrip!+ FM Modulator + iPod Charger
car kit (photo to left) passes all of these tests with flying colors - except one. It doesn't let you change the FM frequency. This is only a minor inconvenience since the RoadTrip!+ FM Modulator iPod car kit uses a relatively unused area of the FM dial - namely 87.9FM (virtually all the way to the left on the old manual FM dial).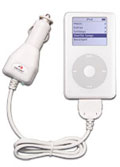 I tested the RoadTrip FM Transmitter both with my 3000GT (power antenna) and my Dodge Viper (window wire antenna). The RoadTrip!+ FM Modulator worked flawlessly in both cases and I was very impressed with the sound quality. Part of the reason for the excellent sound quality was the fact that it connects 'digitally' to the iPod's Firewire port for a 100% digital connection. Some iPod FM transmitters instead connect to the iPod's headset output jack which has lesser sound quality. Overall, I was quite pleased with this product and would recommend it.
The RoadTrip!+ retails for $27.95 and is compatible with third- and fourth-generation, photo and mini versions of Apple Computer's iPod.
Here are some other great iPod FM Transmitters: