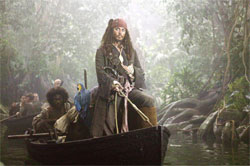 The upcoming Blackberry Pearl looks like a gorgeous smart phone, but it's sure to drive the corporate types crazy -- no wheel, multimedia capabilities, decidedly non-Blackberry look and feel.
I also can't help thinking the name has something to do with Pirates of the Caribbean -- the Black Pearl, you know?

Perhaps there's an upcoming Blackberry/Disney tie-in or maybe Johnny Depp is involved in some way? You know, "This is Captain Jack Sparrow for the Blackberry Pearl ..."