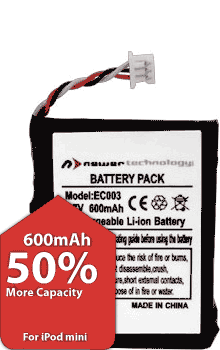 The iPod is certainly a lot of fun, but not when the battery dies (come think of it, what product is?). However, battery replacement for the iPod has a shrouded-in-mystery feeling when you have to send or take it somewhere special to have the battery replaced.
Now, Newer Technology has solved that problem with its super-duper, handy-dandy, ultra-awesome NuPower High-Capacity iPod Replacement Battery. Oh, by the way, the NuPower actually increases capacity as compared to the original Apple battery; the iPod mini, for example, gets a 50% boost.
Although they recommend that a qualified service install the battery (and help to find one is available at www.newertech.com), they do include two screwdrivers with the battery for the DIY set. The MacSales.com web site has a follow-the-bouncing ball, step-by-step QuickTime instruction video (http://eshop.macsales.com/shop/ipod/battery/install-service/#1428).
Retail price: $24.95 (for the iPod mini). Batteries for other iPods from $14.95 to $29.95.