Carbon Nanotubes on Computer Chips? Yes, and Here's Why This Matters
October 3, 2007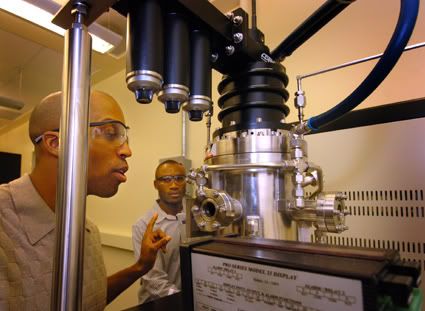 According to a press release from Purdue University:
Engineers have shown how to grow forests of tiny cylinders called carbon nanotubes onto the surfaces of computer chips to enhance the flow of heat at a critical point where the chips connect to cooling devices called heat sinks.
The carpetlike growth of nanotubes has been shown to outperform conventional "thermal interface materials." Like those materials, the nanotube layer does not require elaborate clean-room environments, representing a possible low-cost manufacturing approach to keep future chips from overheating and reduce the size of cooling systems, said Placidus B. Amama, a postdoctoral research associate at the Birck Nanotechnology Center in Purdue's Discovery Park.
Researchers are trying to develop new types of thermal interface materials that conduct heat more efficiently than conventional materials, improving overall performance and helping to meet cooling needs of future chips that will produce more heat than current microprocessors. The materials, which are sandwiched between silicon chips and the metal heat sinks, fill gaps and irregularities between the chip and metal surfaces to enhance heat flow between the two.
The method developed by the Purdue researchers enables them to create a nanotube interface that conforms to a heat sink's uneven surface, conducting heat with less resistance than comparable interface materials currently in use by industry, said doctoral student Baratunde A. Cola.
Findings were detailed in a research paper that appeared in September's issue of the journal Nanotechnology. The paper was written by Amama; Cola; Timothy D. Sands, director of the Birck Nanotechnology Center and the Basil S. Turner Professor of Materials Engineering and Electrical and Computer Engineering; and Xianfan Xu and Timothy S. Fisher, both professors of mechanical engineering.
Better thermal interface materials are needed either to test computer chips in manufacturing or to keep chips cooler during operation in commercial products.
Hey, given the play this paper has earned, don't you think Barantude A. Cola's Ph.D. prospects are looking kind of good right about now?
Related Tags:
chips
,
nanotubes
Listed below are links to sites that reference Carbon Nanotubes on Computer Chips? Yes, and Here's Why This Matters:
Trackback Pings

TrackBack URL for Carbon Nanotubes on Computer Chips? Yes, and Here's Why This Matters:
http://blog.tmcnet.com/mt3/t.fcgi/33727