Dextr Website Chat Integration
The ability to integrate your Company Website with your call center is a powerful customer experience management tool. Being able to integrate your website with a ChatBot is even more powerful, but imagine the power of being able to escalate a chat session to a voice call! Now that is a truly powerful customer engagement strategy and now a standard Amazon Connect Call Center feature.
Features of Amazon Connect Chat
The Chat functionality enables you to reuse the very same contact flows that you established for a voice call or you can create new contact flows that are chat specific. This significantly reduces the deployment time. A "Play prompt" step, for example, that would normally be spoken to a caller, is now pushed out as a chat message. Chats are persistent and given the asynchronous nature of these interactions, responses can be anytime over a 25 hour period. Let us assume you have a chat session with a client who asks a question about your product or service and the agent asks a follow up question to clarify the customers enquiry. Maybe the customer has to go find the answer form another team member and does not reply for an hour. The Agent might disconnect, but if the customer continues the chat session later, a new session will be created with the entire chat history and transfered to a new agent. It is possible also to send the chat back to the same agent, but assuming that agent is no longer available, the entire chat history is made available to a new agent.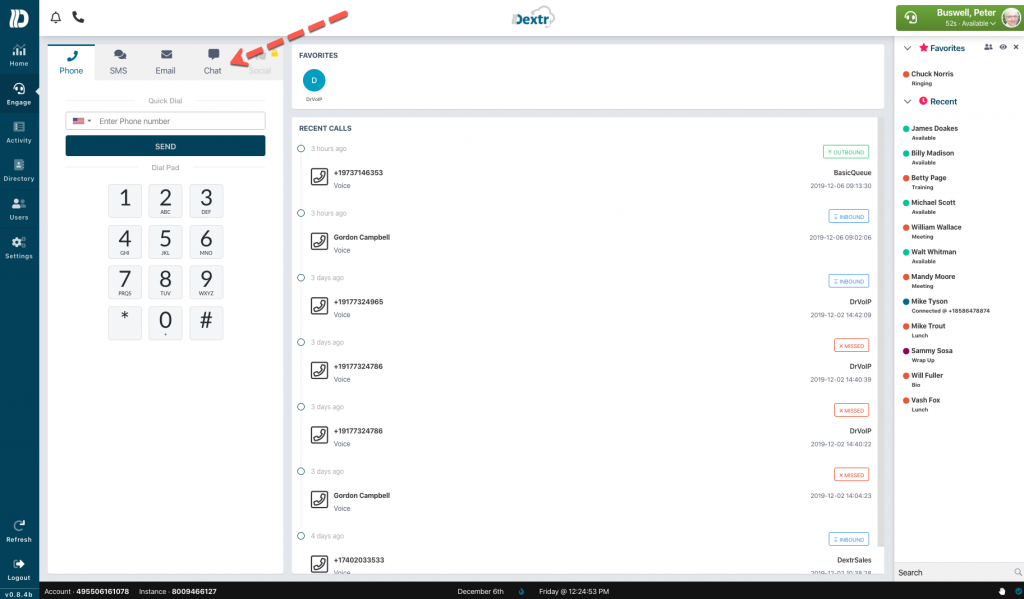 The Dextr Dashboard implementation
Dextr now includes the Chat engagement option as part of its standard desktop agent offering and the Engage tab now shows Phone, SMS, Email and Chat! Dextr also adds Chat to its activity screen adding a new icon and a READ button. The Activity page now notes the chat details including the appropriate metrics. A supervisor or agent with the proper permissions can also bring back the entire chat history, by hitting the READ button, in a manner similar to how Dextr brings back a recorded phone call!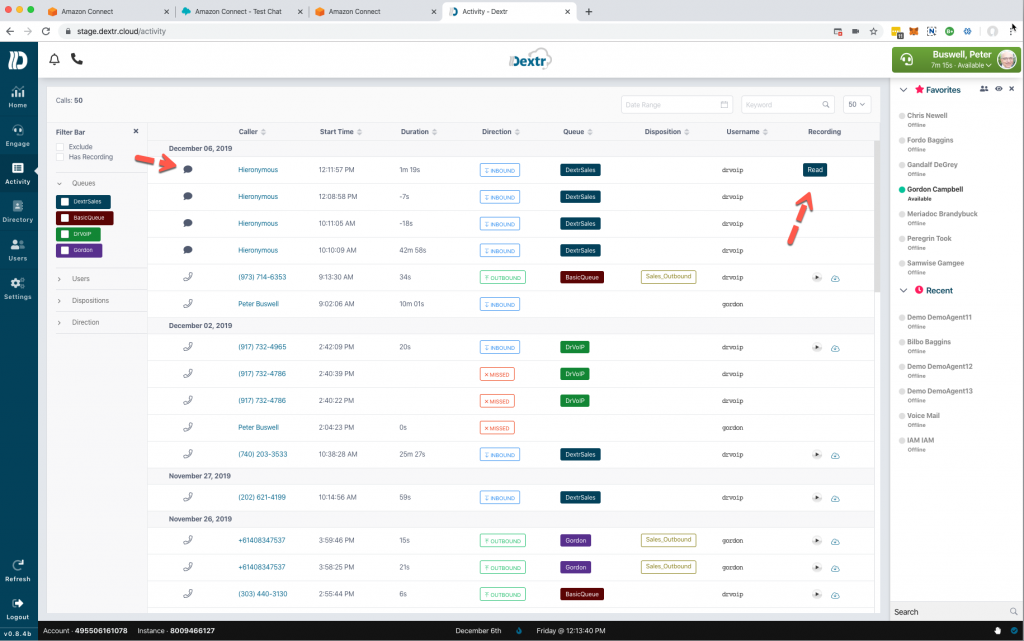 Dextr is a subscription based portal in which, if you have an existing Amazon Connect call center, you can be driving a Dextr dashboard in less than 15 minutes! If you don't have a Dextr dashboard, we will be happy to create one for you! Ask DrVoIP about our Dextr Contact Center Managed Service Solution in which we provide an Amazon Connect Call Center for your enterprise, with no money down, no contracts and pay only for what you use! We take care of everything from deign, through setup, training, "go live", on going technical support and a Dextr Dashboard for every agent at a nominal per connected minute, exclusive of telephone carrier charges! [email protected]