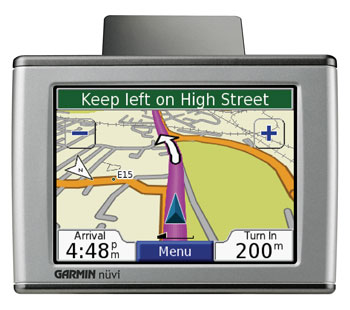 I'm down in Disney World with my wife, daughter, and mother-in-law and a Garmin Nuvi 350 GPS was stolen at Disney's Typhoon Lagoon. Although the road signage is great around Disney, I was using a Garmin Nuvi 350 portable GPS to get around.
I wasn't using the suction cup since it leaves a ring on the window which indicates to thieves you either have a radar detector or GPS. Either can fetch a pretty penny on eBay. Anyway, normally I carry the Nuvi with me into the parks since I don't trust leaving it in the vehicle. It's also handy for
mapping where you left your vehicle
for a quick getaway.
However, since we were going to a water park and would be leaving our stuff basically on a lounge chair out in the open, I figured leaving the GPS in the vehicle was safer.
I was smart enough not to leave the GPS unit on the dashboard, which is basically saying "come steal me". However, I didn't put it into the glove box or under the seat. I just stuffed it into the cup holder which obscured it somewhat. I was in a GMC Envoy, a pretty big car with tinted back windows, so I figured it was obscured enough by the cup holder. Only a thief walking the parking lot and peering into vehicles would see it. Disney security drives around as well, so I didn't think twice about not hiding the GPS under the seat. I should mention this entire week has been very hot and humid. I believe when we went to the water park it was over 95 degrees and with the humidity they said it feels like 104 degrees, so when I left Typhoon Lagoon, I just wanted to get in the car, blast the A/C and go without having to reach under the seat. The cup holder was easier...
Long story short, we came back to the rental vehicle to see the driver-side window smashed and the Garmin Nuvi 350 missing. They left the stroller and baby seat. Hey, at least they were thoughtful thieves!
Apparently Disney security had left the parking lot for an hour due to an injury in the water park. Probably right when they broke the window. Amazingly, no one was around to hear smashing glass in a packed parking lot. I can live with the $375 loss and the inconvenience of having to drive BACK to the airport to get a new rental car. But to think that perhaps someone saw something and did nothing is a bit annoying. If you wondering if I had rental car insurance @$9/day, no I did not. However, it's possible my Platinum Visa card will cover the damage to the window and the stolen GPS. I filed a claim online (they won't do it over the phone) and am crossing my fingers...
And to the thief who stole the GPS, I've already forgiven you. You obviously must have a tough life in order to steal. It must have taken great courage to have to bust a window knowing you would be leaving sharp glass shards all over a baby's car seat. But hey, at least you didn't steal from a baby. You did leave the $300 baby car seat. I hope you get top dollar wherever you sell the Garmin Nuvi 350. I just hope it's to put food on your table and not drugs into your system or to pad your Playstation gaming library. I'll just consider this part of my yearly charity to the poor. Too bad I can't write this off on my taxes.
On a more positive note, I scored 147,400 points on Buzz Lightyear Space Ranger Spin, a new record (for me anyway) and I'm still having a blast on my vacation even with my GPS gadget misfortune.
Well, I'm headed over to
Amazon.com to buy a new Garmin 350, I see it listed for under $300.
Or maybe I'll go with
a higher-end Garmin?