Barred in the USA: TorrentSpy.com
August 27, 2007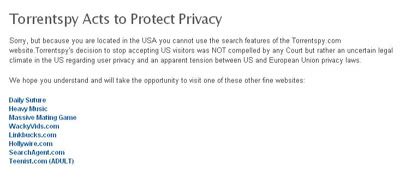 After learning about controversies related to Torrentspy.com, our own Rich Tehrani writes that he went to the site and searched for "Jon Stewart" and received the following message:
"Sorry, but because you are located in the USA you cannot use the search features of the Torrentspy.com website. Torrentspy's decision to stop accepting US visitors was NOT compelled by any Court but rather an uncertain legal climate in the US regarding user privacy and an apparent tension between US and European Union privacy laws."
The fact that TorrentSpy is based in the Netherlands, has a bucket of legitimate distribution functionalities and doesn't even host movies on its site puzzles Rich as why the Motion Picture Association of America is so adamantly set against TorrentSpy's survival.
One possible reason for the controversies, Rich thinks, is that the ads it runs- the display of which seem to be sparked by likely pirated videos that come up in TorrentSpy search results, are seen as an illegitimate income stream actualized by infringing content.
Headed for the courts, I'd bet.
Listed below are links to sites that reference Barred in the USA: TorrentSpy.com:
Trackback Pings

TrackBack URL for Barred in the USA: TorrentSpy.com:
http://blog.tmcnet.com/mt3/t.fcgi/33376