There comes a time in the life of any technology where you can say it has truly reached mainstream. Perhaps 2003 was the year the iPod went mainstream. I wonder if 2006 is the year we can look back on and say, you know this was the year that virtually everyone knew what VoIP was and what it can do for them.
As I went through my volumes of e-mail this morning I noticed one of my e-messages was from Hammacher Schlemmer. Now I can never pronounce this name or spell it without spell checker but I have ordered products from the company before and noticed they carry virtually any product you can think of from gadgets to outdoor accessories.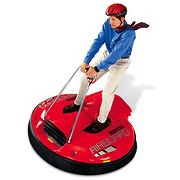 Perhaps my favorite toy from the company's most recent catalog is the levitating hover scooter (Anyone see Back to the Future II?). How much you ask? Well for a measly $17,000, you can have one. This is exactly the toy to use when you get sick of your Segway.
But digressions aside, when I opened the company's newsletter I noticed something new. I saw a picture of two telephones near each other but what I didn't expect was to see the headline: Voice over IP telephone system. The phones are made by Uniden and you get a wired and wireless model for $139. You can add up to nine handsets and the service costs less than $20 per month.
I recall Uniden working with Vonage and some research shows this is the case. I am not sure if this phone supports Vonage as well but I would guess it does.
If I had to say when a technology goes mainstream, I would say it is when the products from this market start showing up in the premium catalogues. Sure, the real techie catalogues have carried VoIP products for over a year but Hammacher Schlemmer is in a different category and although I can't imagine the company selling more phones than Amazon this seems to be a small step for the cataloguer and a huge step for VoIP-kind.